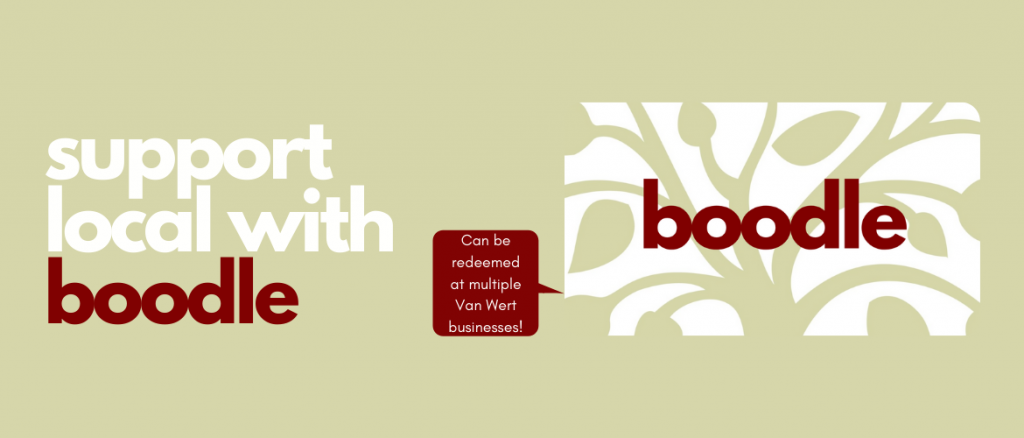 To purchase a Boodle e-gift card, visit the website below.
https://app.yiftee.com/gift-card/van-wert
Select the value of the gift card you would like to send.  Values range from $5-$250.  Then select the recipient.  Gift cards are excellent for family members, friends, or even yourself!  The e-gift card can be sent via email or text message.
Once the recipient receives the Boodle e-gift card, they can redeem it at multiple participating businesses in Van Wert. Participating locations can be found on the website below. The recipient can show the image of the gift card on their mobile device or print and present to the merchant.
I want to purchase a boodle e-gift card!
For more information on how the Boodle e-gift card works, please visit Yiftee's FAQ's on the website here.
How to Become a Participating Business
All Chamber Member businesses are welcome to be a participating location in the Boodle e-gift card initiative. There is no cost to participate for Chamber Members! To become a participating location, businesses can apply to join by clicking the following link:
I want my business to be a participating location!
Once your business has applied to join, the Chamber will approve your application and you will receive a follow up email from Yiftee on how to activate your business as a participating location. To get activated, the business must follow a simple step of processing a 10 cent Mastercard transaction in your Point of Sales System that will be sent by Yiftee. This activation step is necessary to become a participating location for the Boodle e-gift card.
Once your business has completed their activation, consumers can start using their Boodle e-gift cards at your location.
Yiftee has provided this brief video tutorial on how to train your employees on processing Boodle e-gift cards. This video will also be sent to your email with the activation link.
Give the Gift of Yiftee!
Yiftee offers the opportunity for businesses or individuals to purchase a bulk order of Boodle e-gift cards. This is a great way for a business to show appreciation to their employees or customers while supporting local businesses within their community! Bulk orders are completely customizable and provide the opportunity to set a customized expiration date to encourage recipients to take advantage quickly! Gift card funds that are not spent are rebated up to 90% which can be spent on future e-gift card orders.
To purchase a bulk order of Boodle cards, simply visit the website and select the value and follow the prompt on the website to purchase a bulk order.
The Boodle gift card is a unique way to support local businesses in Van Wert while providing flexibility to the consumer. For more information or questions on the Boodle e-gift card, please contact the Van Wert Area Chamber of Commerce at 419-238-4390 or chamber@vanwertchamber.com.