The Young Professionals of Van Wert County is sponsored by the Van Wert Chamber of Commerce. The goal of the group is to connect individuals under 40 who work or live in Van Wert County and are interested in professional development, community service, mentoring, and networking. The Young Professionals offers members access to other young professionals, community leaders, and businesses throughout Van Wert County. Through the variety of events and programs we host throughout the year, our members grow personally and professionally making valuable business and social contacts.
Thursday October 27, 2022, 4:00pm-5:00pm: All Hallows Happy Hour with the Young Professionals.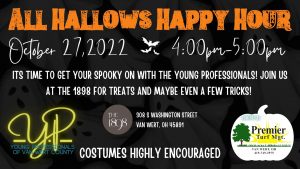 Thursday December 1, 2022, 9:00am-10:00am: Making a Difference with the Young Professionals. Tis the season to give! Join us for an opportunity to hear about the impact of giving Tuesday in our community!