The Young Professionals of Van Wert County is sponsored by the Van Wert Chamber of Commerce. The goal of the group is to connect individuals under 40 who work or live in Van Wert County and are interested in professional development, community service, mentoring, and networking. The Young Professionals offers members access to other young professionals, community leaders, and businesses throughout Van Wert County. Through the variety of events and programs we host throughout the year, our members grow personally and professionally making valuable business and social contacts.
Thursday March 30, 2023 from12:00pm-1:00pm: 
Join the Young Professionals for a tour of Millwork Brands, formerly National Door and Trim.  Click here to register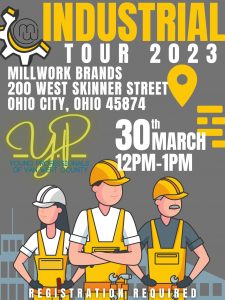 Friday April 28, 2023, 9:00am-10:30am: Professional Development Day, "Career Navigation, handling burnout, and getting unstuck" with Joel Kessel at Willow Bend C.C. Registration will open soon!
Thursday May 25, 2023 After hours event: time and location will be announced soon!