"Before you are a leader, success is all about growing yourself. When you become a leader, success is all about growing others." Jack Welch
Goals
To identify, develop and motivate potential community leaders.
To expand the leadership potential of participants through:

Educational programs designed to broaden their knowledge of Van Wert
Exposure to existing leadership and civic organizations

In depth exchanges on current relevant issues.
To improve communication amongst leaders.
To provide a channel for participants to gain access to leadership opportunities and become involved.
To foster a life-long commitment to community service.
To match potential candidates with community organizations where they can serve.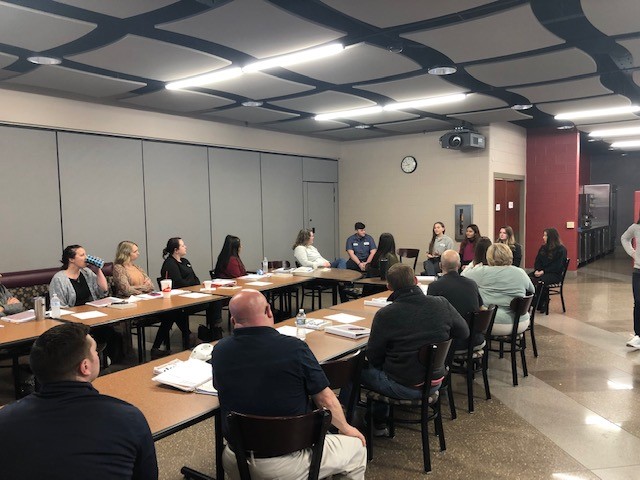 Program at-a Glance
Van Wert County Leadership Program is a nine-month leadership development program that began in 1994 for a diverse group of citizens who have:
A demonstrated ability to achieve personal goals
Availability of time and resources for effective community service
A demonstrated personal commitment to the community and society as a whole
Program Topics
Team Initiatives & Team Building
Change Management
Volunteerism/Social Services/VW County History
Conflict Resolution
FISH! Philosophy
Project Management
5S Methodology
Ethics & Leadership
Local Government, Industry & Facility Tours
2023 Program Sponsor: Northwest State C.C.
Tuition
Individuals are sponsored by their business or organization, or may nominate themselves.  Tuition for the program is $475.00 and is traditionally is paid by the participant's employer, business or sponsoring organization.
Expectations
Participants are expected to make a commitment to the Van Wert County  Leadership Program.  Participants who miss more than two of the class days may be excused from the program. Participants are also expected to work on a community project. Absences or lack of participation in any part of the program may result in a participant leaving the program or making up absences the following year.
Community Board Participation
Participants are matched with a local community non-profit Board of Directors and will attend two board meetings and will give a brief report on their experience to the class.
What's being said about Leadership Van Wert County...
Mitch Price, Citizens National Bank
"The Leadership Program hones & perfects an individual's leadership skills. You can gain so much from the program and it really helps you become a better leader--a leader by choice. This program is a benefit and an asset to the industries and companies that select an attendee. In the end your company reaps the rewards that come of it!" -Class of 2016
Cindy Amweg, Tenneco, Inc.
"Through the Leadership Van Wert Program I have had the pleasure of meeting many great people in the community, seeing much of what Van Wert has to offer, and experiencing some very good training sessions.  I enjoyed the classes very much and took away a lot of valuable lessons that I can apply in both my work and personal life in order to be a more effective leader. " -Class of 2008

Leadership Van Wert County provides leadership development for a diverse group of citizens to enable them to effectively serve their community.
Past Program Supporters:
Van Wert Health

Danfoss

Century Trading Company


Tecumseh Packaging Solutions

Cowan & Son Funeral Home

First Bank of Berne

Purmort Brothers Insurance

Citizen's National Bank
Main Street Van Wert
Central Insurance Companies
Shultz, Huber & Associates
City of Van Wert
Solid Source
Braun Ambulances
First Federal Savings & Loan
Vancrest Healthcare Center
Tenneco, Inc.
Community Health Professionals
Thrivent Financial
Van Wert Manor
Advanced Biological Marketing