We love Van Wert. And why not?
Low cost of living including land, commercial and residential real estate. Outstanding county schools featuring the State Robotic Champions, Division IV State High School Basketball Champions, career workforce development and higher education opportunities. The Arts- brought to life via Niswonger Performing Art Center and Wassenberg Art Center. A revitalized, charming downtown district celebrating its 10th year anniversary as a Main Street Ohio designated community. Festivals that celebrate the breathtaking peony to mouthwatering ribs.
The best of small town living, conveniently located to big city conveniences. Thirty miles from Ft. Wayne, Indiana; 80 miles from Toledo and Dayton; less than 150 miles from Columbus and Cincinnati; and a 350 mile radius of the Great Lakes, Chicago, Detroit, Toronto, Pittsburgh, St. Louis, Milwaukee, Cincinnati, Louisville, Nashville, Buffalo, Cleveland, and Indianapolis.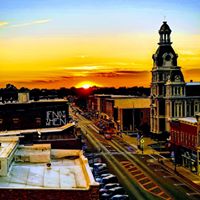 Whether you're a manufacturer that needs a 1600 acre "job-ready" industrial site or a smaller one needing less. Van Wert's got it. Whether you harvest soybeans or wind, Van Wert County welcomes you. Perhaps you've got a business idea that you are driven to see succeed. Van Wert is here to assist you with its entrepreneurship initiatives and funding incentives. We are here to aggressively assist our businesses build economic success.
Come visit and you'll see that we mean business.